Event Spotlight – NSTA/Toshiba ExploraVision Awards Dinner & Satellite Media Tour
Tell us about ExploraVision and the key goals of your event.
Since its inception in 1992, more than 330,000 students from across the United States and Canada have participated in ExploraVision, a national science competition organized by the National Science Teachers Association and sponsored by Toshiba. Students participate in teams to pick a current technology, research it, and envision what it might look like in 20 years, and describe the development steps, pros & cons, and obstacles. Their ideas are submitted as contest entries, and winners are selected through a rigorous evaluation process on a regional and national level. To honor and celebrate the students' accomplishments, we host an Awards Gala Dinner, and produce a Satellite (TV) Media Tour where we set up live TV interviews with the students and their hometown TV news stations.
Why did you Chose the National Press Club for your Event?
We have been working with Patty and her team at the National Press Club for more than 20 years on the Awards Gala. She and the National Press Club staff are phenomenal and the venue is such a special treat for the students – they get to be honored in the same historic room where world leaders, scientists, celebrities and other historic figures have spoken over the past hundred years of the Press Club. The catering options are wonderful and the tech and A/V teams are very attentive and knowledgeable in working with us to really make it a special event.
Tell us about the Satellite Media Tour.
As part of our media relations strategy to raise awareness of the ExploraVision competition across the nation, we wanted to get more news outlets interested in talking to the students about the great projects they did. But getting media from local markets all over the country to come to DC for the Gala just isn't feasible. So we worked with our PR agency Ketchum Public Relations to produce a Satellite Media Tour (SMT) from National Press Club's Broadcast Operations Center the day after the big dinner, where each of the winning teams is interviewed by their local hometown TV news station via satellite. It is a crazy day with over 24 kids from grades K-12 running around a TV studio, but what a thrill it is for them to be "celebrities" on their hometown TV stations, and to meet the legendary Bill Nye the Science Guy!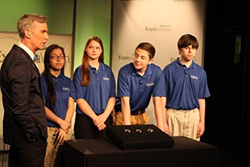 What were your metrics for success? Did you achieve them?
The Awards Dinner is always great and the success for that is just seeing all the kids and their parents having such a great time and celebrating their accomplishments. And the Press Club does such a fantastic job every year. For the media tour, our goal was to book around 18-20 interviews over 3 hours from the studio. This year we actually did 32 interviews with stations all over the country including Chicago, Philadelphia, San Francisco, Atlanta, Detroit, Tampa, Seattle, Denver, Baltimore, San Diego and Las Vegas, among others. So from a media exposure perspective, we were thrilled with the project! And of course seeing these girls and boys having so much fun and being recognized for all of their creativity, intelligence and teamwork is just priceless.