NPC Luncheon with EPA Administrator Gina McCarthy
November 21, 2016 12:30 PM
Headliners
NPC
Location: Ballroom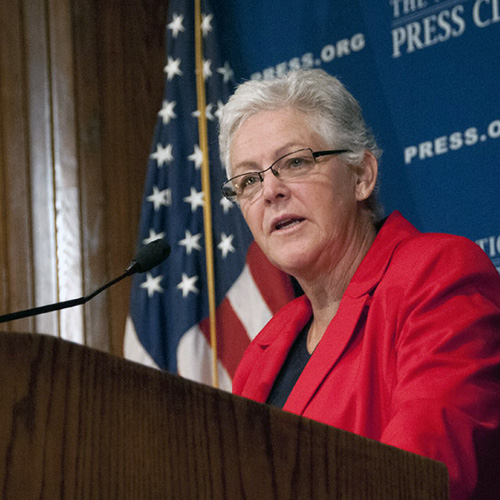 EPA Administrator Gina McCarthy will speak at a National Press Club luncheon on Nov. 21.
She plans to focus on the environmental and public health legacy of the Obama Administration, with an emphasis on efforts to combat the global effects of climate change.
Under McCarthy's leadership, the EPA helped penalize Volkswagen for cheating on diesel emissions, advocated for regulations to reduce methane emissions from the oil and gas sector, promoted a sweeping federal rule to cut carbon dioxide emission from power plants and worked to expand federal authority under the Clean Water Act.
McCarthy also admitted that EPA placed too much trust in Michigan's Department of Environmental Quality, the main culprit for the Flint water crisis.
Lunch will be served at 12:30 p.m., with remarks beginning at 1 p.m., followed by a question-and-answer session ending at 2 p.m. Tickets cost $24 for Press Club members (NPC Members may purchase 2 tickets at this rate) and $38 for all other non-member tickets. For questions, please email reservations@press.org or call (202) 662–7501. Tickets must be paid for at the time of purchase.
NPC Members who wish to attend the pre-luncheon reception must RSVP separately to VIPreception@press.org 48 hours before the event. Space may be limited. You must have a paid reservation to the Luncheon to attend the VIP reception.
To submit a question in advance, put MCCARTHY in the subject line and email to president@press.org before 10 a.m. on the day of the luncheon.
NPC Members: There is a member promotion available for this event or you need to log in to register.
Click here to log in
and get the code.