Matthews elected 114th National Press Club president
Members of the National Press Club elected Lisa Nicole Matthews of the Associated Press to serve as the Club's 114th president as the organization continues to confront the COVID-19 pandemic and a challenging media environment.
Matthews, the AP's U.S. Video assignment manager and winner of two Edward R. Murrow Awards, has more than two decades of experience in journalism. She is the third person of color to lead the Club, after Sheila Cherry in 2004 and Jeff Ballou in 2017.
For the first time, the Club elected an all-female leadership team. In addition to Matthews, other Club officers chosen Friday, Dec. 4, were Vice President Jen Judson (Defense News), Membership Secretary Emily Wilkins (Bloomberg Government), Secretary Gillian Rich (Investor's Business Daily), and Treasurer Eileen O'Reilly (Axios).
Past Club President Jonathan Salant announced the election results Friday evening after 12 days of online voting.
In a virtual Zoom address to members, Matthews struck an optimistic tone, pointing to examples of ways the Club had adapted to the pandemic, which shut down in-person events through most of 2020.
She praised outgoing Club President Michael Freedman and Club Executive Director William McCarren for managing to "keep our doors open when so many doors around us closed."
"While the pandemic will continue to present challenges well into 2021, I believe the obstacles before us will also bring opportunities for growth," Matthews said.
She noted that the Club had grown its membership, migrated its programming to Zoom, offered curbside pickup from its restaurants to members of the public and, spearheaded by McCarren, launched the Help the Heroes program that sends fresh meals to front-line health care workers.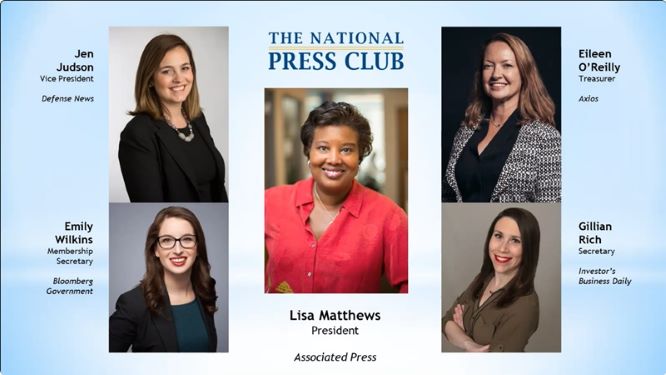 The Club will continue to face growing distrust of the media, Matthews said, and she would continue to push more connections with the community, promote and defend press freedom and spread news literacy to a broader audience.
"I believe the Press Club must continue the robust work of elevating diverse voices and recruiting a more diverse membership," she said.
Several members of the Club's Board of Governors also were elected Friday. They include journalist members Kimberly Adams (Marketplace), Del Wilber (Los Angeles Times), Sarah Wire (Los Angeles Times) and Mike Balsamo (Associated Press) and communicator member Debra Silimeo, president of The Silimeo Group.