John Edward Hurley, chairman of McClendon Group, friendly Reliable Source regular, 85
John Edward Hurley was not one to follow the herd in journalism or other endeavors. Like his close friend and eventual business partner, pioneer female journalist Sarah McClendon, the 29-year National Press Club member pursued his own course while being a friendly and familiar figure at the Club's Reliable Source. Hurley died May 7 at a hospice in Arlington, Va., of lung cancer. He was 85.
Hurley was chairman of the McClendon Group, which hosted meetings with newsmakers in the Club's 14th-floor room Hurley helped have named after the maverick White House correspondent. He noted that McClendon often went after stories mainstream journalists ignored, such as shortcomings at the Department of Veterans Affairs.
"More often than not, she proved to be right in the long run," he said.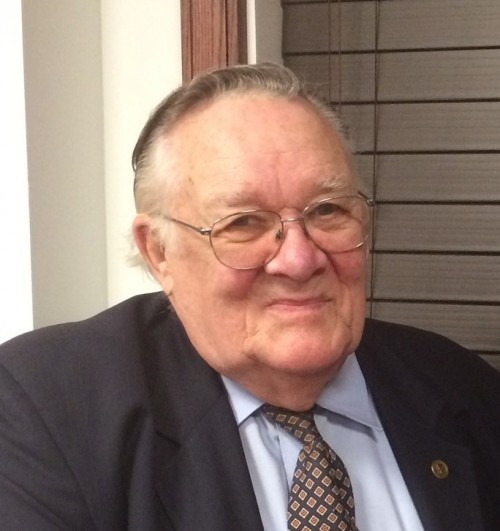 Reliable Source manager Mesfin Mekonen called Hurley a dear friend.
"Mr. Hurley was clearly a man who loved to make people laugh and smile," Mekonen said. "When he would arrive at the Reliable Source, he would ask me if anybody was looking for him or if he owed anybody money. He will be dearly missed here at the NPC."
Wayne Madsen, editor of the Wayne Madsen Report, said of Hurley: "John always had a kind word for those he knew and even those who he had just met. When my mother was in a nursing home with dementia, John, a deeply religious man, always let me know he was praying for her and that he had lit a candle in his church for her upon learning of her passing."
Hurley worked as a White House correspondent and was a commentator on News Talk America, and was a member of the public information committee of the National Academy of Sciences. He was born in D.C. and raised in Arlington.
A devout Catholic, Hurley graduated from Gonzaga College High School and attended Georgetown University School of Foreign Service. He and his wife, Doris, who predeceased him several years ago, had lived in his boyhood Arlington home until his illness.
Like McClendon, Hurley was a proud veteran of the U.S. Coast Guard who served as commander of the Club's American Legion Post 20.
"John kept Post 20 going through some lean years, bridging the gap between World War II veterans such as Don Larabee and John Cosgrove and Vietnam era vets," said Jim Noone, current commander of the Post which now has some 70 members. "John was Commander from 2007 to 2012 and stayed active as the Post's historian."
History was one of Hurley's passions, especially that of Washington, D.C., and the Civil War. He loved comparing current political foibles to similar ones from the past. He was the historian for the John Barry Division of the Hibernians and co-founder of the Capitol Hill Civil War Roundtable.
He had a special interest in the integrity of the court system and hosted several news events on that subject. Andrew Kreig, who called Hurley "a dear friend of mine and so many others," worked with him when Hurley became co-founder and director of the Justice Integrity Project 11 years ago.
Hurley served on the board of directors of the Veterans Administration Music Group, and was a member of the Club's History and Heritage Committee. An accomplished horseman, Hurley was a patron of the Thornton Hill Fort Valley Hounds fox hunting club and a sponsor of the Rappahannock Hunt, and he developed a public relations program that combined various breed registries in the American Horse Council.
Survivors include his brother, Michael of Arlington, Va., and Robert, of Alton, Ill.
Visitation will be at St. Agnes Catholic Church, 1914 North Randolph Street, Arlington, from 12:30 p.m. to 1:30 p.m. on Thursday, May 13, followed immediately by Mass. Interment will be at 11 a.m. on Friday, May 14, at Mt. Olivet Cemetery, 1300 Bladensburg Road, Washington, D.C.