Cardinal Wilton Gregory urges 'respectful dialogue,' inclusion at Club Headliner
Cardinal Wilton Gregory, the highest ranking Black American cleric in the history of the Roman Catholic Church, called for more "civility and respectful dialogue" nationwide Wednesday, Sept. 8, at the National Press Club's first in-person Headliner luncheon since March 2020.
Elevated to the College of Cardinals by Pope Francis on Nov. 28, Gregory urged greater inclusion of gay and divorced people, and more representation of people of color in the church hierarchy.
He answered questions from National Press Club President Lisa Nicole Matthews as well as from the live and virtual audience. One of the topics that came up was his leadership in helping the church respond to sexual misconduct.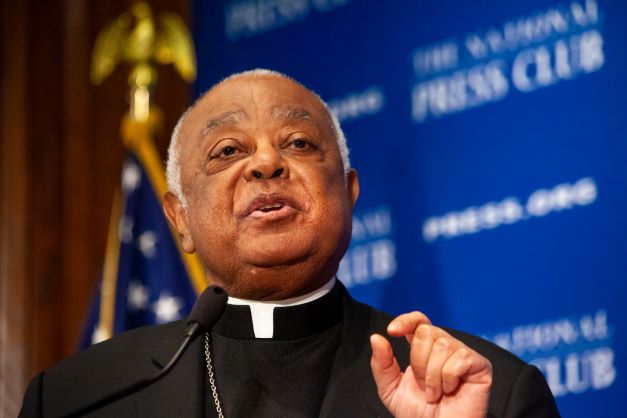 As president of the U.S. Conference of Catholic Bishops (USCCB) in 2002, Gregory presided over the adoption of the "Charter for the Protection of Children and Young People," a binding national policy of zero-tolerance in addressing allegations of sexual abuse of minors by Catholic clergy. The Charter also includes guidelines for reconciliation, healing, accountability and prevention of future acts of abuse.
"No one with a credible allegation of sexual abuse should be in public ministry," Gregory said. "From the beginning of the crisis, we focused on the wrong entry point."
The first concern, he said, should have been "how do we care for the people who have been hurt?"
Gregory, the Archbishop of Washington, also praised journalists.
"You are the ones we rely on to keep us informed, updated and connected as a global community of various faiths," he said. "You are the professionals with just the right words…to bring us the facts, the people, the take-away."
Modern-day American journalists "amplify community voices speaking out against injustice and inequality," he added, praising the press for holding people and institutions accountable and countering "fraudulent, unverified and biased information that passes as news."
During his Club appearance, Gregory addressed an array of subjects:
Abortion: "The church has not changed its position on the immorality of abortion," Gregory said. Although the Vatican has warned priests "not to use the Eucharist as a political weapon," Gregory said he has no plans to stop President Biden from receiving the communion.
Immigration: He cited Pope Francis's passionate call to welcome immigrants and treat them with dignity. He favors working with countries so their residents don't want to leave. The church is collaborating with social agencies to find homes for Afghanistan refugees, he said, lifting up Catholic Relief Services as a humanitarian example.
Climate change: "I do believe in climate change," Gregory said. He called for "protecting and restoring" the environment, citing Pope Francis' encyclical, Laudato Si on embracing science and faith.
Apocalypse: Noting Biblical stories of pestilence, plagues and today's woes, Matthews asked Gregory if he thought the world was nearing the apocalypse. "I don't think so," he said. Instead, he looks positively to future generations.
Women becoming priests: It's not "our belief, custom or practice," Gregory said.
Labor organizing: "Pope Leo XIII answered that for us," he said, citing Leo's encyclical supporting unions and workers' rights.
Local Catholic high school basketball: He declined to choose between Gonzaga College and DeMatha. His staff has fervent supporters for each team.
Chicago Bears or Washington Football Team: "Bloom where you're planted," said Gregory, a former Auxiliary Bishop of Chicago.
Of more than 1.3 billion Roman Catholics worldwide, 665,000 live in Gregory's diocese.