Live, Virtual or Hybrid Events - Which Approach Is Best?
When planning a professional or social event, the common goal is always to bring people together for a shared purpose – to educate, inform, debate or celebrate. Traditionally, live in-person events have been the best way to accomplish these goals, but in today's world there are several different types of events you can host:
Live – All attendees are physically present in one location
Virtual – People attend the event entirely online
Hybrid – Some people attend in person, others online
How do you know which approach is the best for your event? It boils down to a number of different factors—including your event size, budget, timeline, and the geography of attendees. Each event approach provides its own unique benefits.
Here's a quick guide to help you determine which type of event is right for you.
Live Events: The most effective form of communication & experience
---

There is no other medium that expresses the nuances of communication better than face-to-face interactions. Body language is a huge factor in communication. Postures, gestures, facial expressions, and eye movements are best translated live.
Also many people attend events not just for the content, but for the opportunity to meet and interact with other attendees (and speakers) with similar interests. The human factor and relationship building experience are the #1 reason people attend events.
Virtual Events: Faster turnaround, lower cost, broader reach
---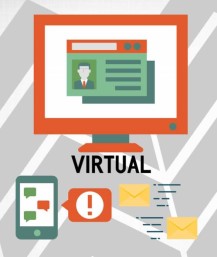 Clients often choose virtual events because resources such as time and money may be at a premium. Virtual events can be deployed quickly with a significant cost reduction. Some good examples of programs that work best in a virtual only format would be panel discussions on current events or policy issues, interview-style programs or educational events that are 90 minutes or less in duration.
Virtual events are also a great option if you are trying to plan something quickly to get out in front of a potential crisis, controversial issue or share your expertise about issues currently in the news.
For longer-form programming, and where face-to-face interaction is a primary goal, in-person or hybrid event formats typically will work best.
Hybrid Events: Flexibility to reach the greatest number of attendees
---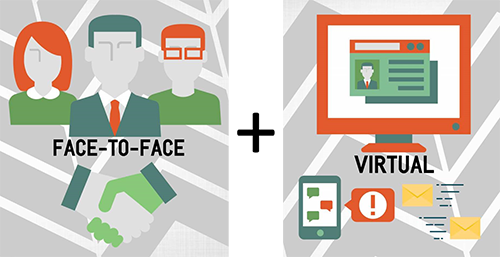 Hybrid events are the best of both worlds. Some of the participants are able to attend face-to-face while others are "brought in virtually", thus adding to the benefit of the overall interaction.
Hybrid meetings can also be used as a method for cost reduction since you don't have time and travel expenses for the entire attendee pool.
Allowing attendees to participate from wherever they sit in the world – either in-person or online - offers everyone flexibility and convenience and allows you to expand your impact regardless of geography.
The Pros and Cons of Hosting Virtual Events
The Pros
Quick and Easy Planning – No need to rent event space, worry about how to fill the room, print name badges, order coffee, lunch, etc. All you need are your speakers/presenters and a well-equipped production studio that provides professional quality interactive webcast or video conference production. You can even customize the set to look however you like (city landmarks, company branding, props, etc.).
Broader Reach & Impact – What's great about virtual events is no one has to travel for them, so you can attract attendees from around the globe. You're not limited to the size of the room like you are with an in-person event. And best of all online registration allows you to gather a wealth of information about your attendees that allows you to customize their experience with your virtual event.
Attendance is Easy - You can promote the event online and attract attendees from around the world who register online and attend from the comfort of their office or home. And no worries about a last minute rush of registrations or having to adjust seating/food, etc.…it's all virtual!
No Surprises – Bad weather? No problem! The show goes on since everyone is attending virtually. Talking about a controversial topic? No need to worry about adversaries or protesters showing up at your event. It's all online so you are in complete control.
Long-Tail Value – With a virtual (or hybrid) event you will get a full video recording of your entire event (including slides, speakers, online Q&A, etc.) which you can archive on your website or other platform(s) to share for years to come. You can also edit the full program into smaller segments/highlights and re-purpose the content on you your social media channels or other platforms to extend the life and reach of your event forever.
The Cons
Less personal connection – Virtual events are quick, convenient and easy, but you lose the opportunity to interact with other attendees or the presenters. While the content of your event is probably most important to you, the ability for attendees to interact with others (and your subject matter experts) with similar interests is probably key for them, so they may view the event as less valuable and choose not to attend.
Distractions - When you're at an in-person event, you are 100% focused on what's happening in the room, and, there is nothing to distract you (assuming you turn your cell phone off and aren't online on your tablet). The office, however, is full of distractions, from the phone ringing to the internet being at your fingertips. You have to find a way for attendees to virtual conferences at your office not to be distracted by these local activities. Having the ability for them to interact with the presenters via online Q&A, Live Event Polling, etc. can help, but it's not the same as being there in person.
Not ideal for longer events – If your program is more than an hour in duration, a virtual event probably is not the best option (see previous item). Keeping people's attention for long periods of time online is challenging. Keep your virtual events under 90 minutes if at all possible. If you are doing a full day or multi-day event, do it in-person and you can live stream the sessions to extend your reach to those interested who are not able to attend in-person.
Technology doesn't always cooperate – If you try to cut corners and do a virtual event through a cheap (or free) service like Skype, Facebook Live, etc. for a professional event, you will regret it. These platforms are not built for professional productions but rather for informal social conversations, and they almost always result in glitches or failures. Don't take chances. Make sure you are working with a reputable production company that has the experience, infrastructure and resources to ensure a high-quality production.
Which Event Approach Is Right for You?
---
| | Face-to-Face | Virtual | Hybrid |
| --- | --- | --- | --- |
| Most Effective Communication | X | | |
| Faster Turnaround | | X | |
| Cost Savings | | X | X |
| Increased Collaboration | X | | |
| Greater Reach | | | X |
| Flexibility & Convenience | | | X |
| Relaying Complex Info | X | | |
| Reduced Travel Cost | | X | X |
Want to get some free, expert advice on which format would work best for events or programming you are planning? Contact the National Press Club's Event Services Team for a free, no obligation consultation on best practices for both in-person and virtual events. We do thousands of live, virtual and hybrid events every year for our clients and we'd be happy to share our expertise with you to help you make the best decisions to meet your event-related goals.