NPC Headliners Book Event - Sean Parnell: "Man of War"
September 13, 2018 6:30 PM
Headliners
NPC
Location: Conference Rooms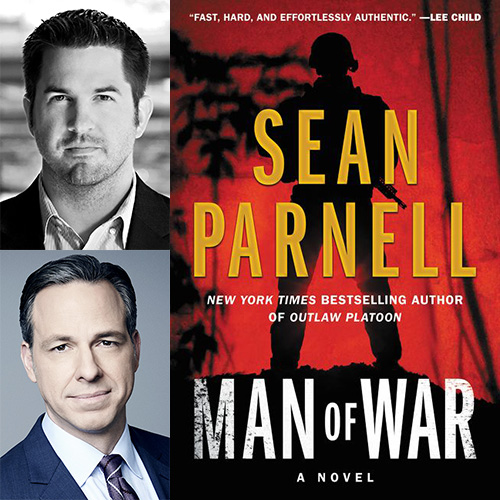 Author Sean Parnell will discuss his debut novel Man of War with CNN anchor Jake Tapper and National Press Club President Andrea Edney at a NPC Headliners Book Rap on Thursday, September 13 at 6:30 p.m. in the Club's conference rooms.
As a U.S. Army Ranger, Parnell commanded an elite infantry platoon known as the Outlaws, tasked with rooting out insurgents from a valley along Afghanistan's eastern frontier. His nonfiction account, entitled Outlaw Platoon, became a best-seller and "required reading" for young cadets across the country. Now Parnell brings his real-world experience and storytelling skills to fiction with Man of War. The novel introduces Parnell's character Eric Steele, an elite clandestine operative assigned to a U.S. intelligence unit known simply as "The Program."
This event will feature a discussion with the author, an audience question-and-answer session, and a book signing. Tickets are $5 for National Press Club members and $10 for the general public. When purchasing tickets for this event online, buyers will also have the option of purchasing copies of the book at check-out.
Books will also be available for purchase at the event. Proceeds from book sales will benefit the non-profit affiliate of the Club, the National Press Club Journalism Institute, so we kindly ask that you leave all outside books and memorabilia at home.
About the Author
Sean Parnell is a former U.S. Army Infantry officer and ranger who served in the 10th Mountain Division for six years. He retired from service as a highly decorated Captain, receiving 2 Bronze Stars (one for valor), and the Purple Heart. His memoir, "Outlaw Platoon: Heroes, Renegades, Infidels, and the Brotherhood of War in Afghanistan," became a New York Times Bestseller. Parnell is the CEO of Branding Freedom, a marketing company, and co-founder of a charity called The American Warrior Initiative.
NPC Members: There is a member promotion available for this event or you need to log in to register.
Click here to log in
and get the code.