Terry Pratchett at The National Press Club
October 14, 2011 7:00 PM
Headliners
NPC
Location: Ballroom
This event is RSVP only. Please contact Nicole Hoffman (using the information below) to RSVP.
Doors open at 6:30 p.m.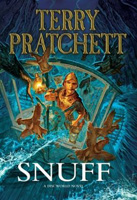 Sir Terry Pratchett will discuss his latest book, Snuff: A Novel of Discworld, at 7:00 p.m. Friday, October 14 in the NPC Ballroom. As a fundraiser for the Club's Eric Friedheim Library, this will be a ticketed event. You must purchase a ticket for admission.
Sir Terry Pratchett, OBE, is the best-selling author of a series of more than 38 humorous and satirical novels about the colorful fantasy world of Discworld, and over 21 Discworld companion or non-Discworld novels, including the award-winning Good Omens with Neil Gaiman. Regarded as one of the most significant contemporary English-language satirists, Pratchett has won numerous literary awards, including the Carnegie Medal, the Andre Norton Award and the Margaret A. Edwards Award. Pratchett was named an Officer of the British Empire "for services to literature" in 1998 and knighted for the same in 2009, and has received at least eight honorary doctorates. Pratchett has also been a longtime supporter and trustee of the Orangutan Foundation UK, and, after his diagnosis with early-onset Alzheimer's disease in 2007, became a leading advocate for Alzheimer's research, contributing funds and urging others to do the same, and raising public awareness of the disease and its implications through the 2009 Scottish BAFTA-winning BBC documentary Terry Pratchett: Living With Alzheimer's, which explored the state of current research and the difficulties of living with the disease, and the 2011 BBC documentary Terry Pratchett: Choosing to Die, which explored the subject of assisted death.
Tickets:
Price: $5 for NPC members, $15 for non-members. Seating will be general admission. You must present your printed ticket for admission.
Book Purchases:
Pre-order your copy of Snuff: A Novel of Discworld. Copies will also be for sale at the event.
Due to health reasons, Terry will not be signing, but the pre-ordered books will be pre-stamped. The first 100 book purchases will win entry to a special in-person stamping event with Terry. Winners will receive an email notice which must be presented at the event. Terry will only be able to stamp one copy per person. If you have pre-ordered multiple copies, you will be able to pick up your additional pre-stamped books at the "will call" table.
Getting Your Book:
For those attending the event (with paid admission):
The printed receipt will serve as a voucher. You must present your voucher at the time of pick up.
For those ordering books, but not attending:
Your copy (or copies) of the book will be available for pick-up in the library from October 17-October 21, 9:00-5:00 p.m.
All sales are final and no refunds will be issued.
For More Information On This Event, Contact:
Nicole Hoffman
202-662-7523
nhoffman@press.org