Nixon snubbed Club, but Humphrey, Muskie, Agnew, Wallace spoke from podium in 1968
July 22, 2018 | By Gil Klein | gilbert.klein@me.com
The tumultuous 1968 election 50 years ago played out at the National Press Club as Democratic candidate Vice President Hubert Humphrey, his running mate Ed Muskie, Republican vice-presidential candidate Spiro Agnew and American Independent Party candidate George Wallace all took their turns at the podium.
Future President Richard Nixon did not come. While he was a regular here when he was a senator and vice president, showing up for summer frolics and father-daughter dinners, he never returned after his 1960 presidential defeat, and especially after his loss to be governor of California, when he famously said at a press conference, "You won't have Richard Nixon to kick around anymore."
According to the cutline in the photo of Humphrey, taken by The Associated Press, Humphrey reopened his quest for the Democratic presidential nomination at the Club by warning that "the nation cannot let violence 'run rampant in the world' any more than in the cities of America."
Another photograph, taken by a Club photographer, shows Wallace (center) with his vice presidential candidate Retired Air Force Gen. Curtis LeMay (left) signing the guest book held by Club President Allan Cromley of the Daily Oklahoman.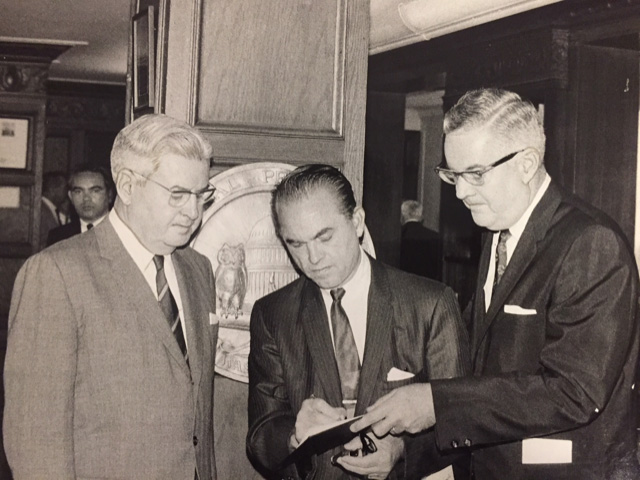 And, finally, Agnew – he who made a name for himself by attacking the news media as the "nattering nabobs of negativism " -- who told the Club that Chief Justice Earl Warren, "who owes everything to his party", should have waited until after the presidential election to resign.
Warren, a Republican who had been appointed by President Dwight Eisenhower, offered his resignation to President Lyndon Baines Johnson just before the end of LBJ's administration. Nixon was still able to appoint Warren's successor, Warren Burger, after a Republican Senate filibuster forced Johnson to withdraw his nominee Abe Fortas.
This is another in a series provided by Club historian Gil Klein. Dig down anywhere in the Club's 110-year history, and you will find some kind of significant event in the history of the world, the nation, Washington and the Club itself. Many of these events were caught in illustrations that tell the stories.