Book Rap: John Byrne Cooke "On the Road with Janis Joplin"
October 28, 2014 6:30 PM
Headliners
NPC
Location: Murrow Room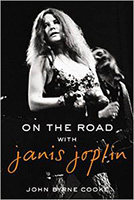 John Byrne Cooke, Janis Joplin's road manager from 1967 until her death, gives a behind-the-scenes look at the years he spent with Joplin, from her legendary rise to her tragic last days.
Cooke reveals the never-before-told story of his years with the young woman from Port Arthur who would become the first female rock and roll superstar.
In 1967, as the new sound of rock and roll was taking over popular music, John Byrne Cooke was at the center of it all. As a member of D.A. Pennebaker's film crew, he witnessed the astonishing breakout performances of Janis Joplin and Jimi Hendrix at the Monterey Pop Festival that June. Less than six months later, he was on a plane to San Francisco, taking a job as road manager for Janis and her band, Big Brother and the Holding Company. From then on, Cooke was Joplin's road manager amid a rotating cast of musicians and personnel, a constant presence behind the scenes as the woman called Pearl took the world by storm.
Cooke was there when Janis made the difficult decision to leave Big Brother and form a new band. He was with her when the Kozmic Blues Band toured Europe in the spring of 1969, when they performed at Woodstock in August, and when Janis and Full Tilt Boogie took their famous Festival Express train trip across Canada. He accompanied Janis to her friend and mentor Ken Threadgill's 70th birthday party, and was at her side when she attended her tenth high school reunion in Port Arthur, Texas.
This is a ticketed event and registration is required. All attendees must have a ticket. This event is a fundraiser for the NPC Journalism Institute. Books must be purchased through the NPC. No outside books or memorabilia permitted. All sales are final; no refunds will be issued.
NPC Members: There is a member promotion available for this event or you need to log in to register.
Click here to log in
and get the code.